In a philanthropic gesture aimed at supporting the healthcare facilities, Mr. Benjamin Nketiah, a Board Member and Assistant Secretary and Mr. Patrick Kuranchie, the Branch Manager of the Asante Mampong branch of UEW Credit Union donated a Hisense Refrigerator with a capacity of 302 litres, valued at Six thousand two hundred Ghana Cedis (GH₵ 6,200), to the AAMUSTED Asante Mampong Campus Clinic.
During the official presentation, Mr. Benjamin Nketia underscored that the act of benevolence was an integral part of the Credit Union's Corporate Social Responsibility. The donation was specifically geared towards addressing the pressing needs for refrigerators to store vital medications at the clinic. Mr. Nketia emphasized that this charitable deed was a direct response to an appeal made to the UEW Credit Union's Board of Directors by the former Medical Officer, Dr. George Wireko Brobbey Bonsu, acting on behalf of the clinic.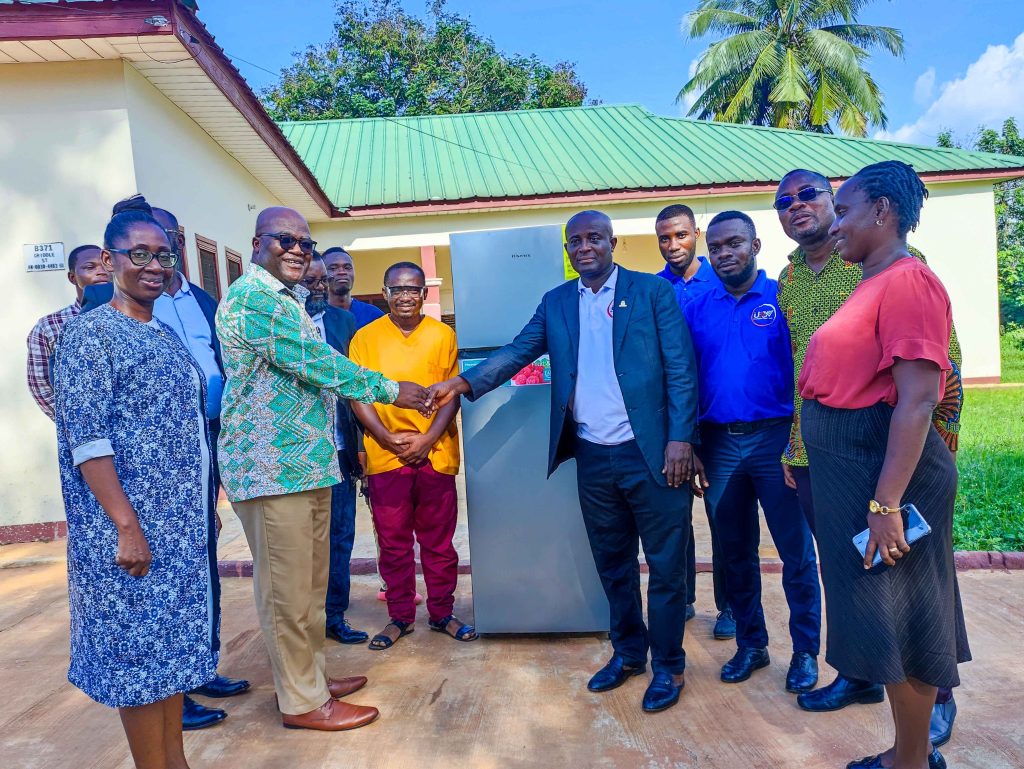 Accepting the donation on behalf of the Acting Principal and Campus Management, the Campus Registrar, Mr. Richard Kwadwo Mprah expressed profound gratitude for the Credit Union's benevolence. He highlighted the significance of the contribution in overcoming challenges at the clinic. However, he also aptly noted that akin to the classic character Oliver Twist, the University hoped for more of such acts of kindness in the future. These, he mentioned, would play a pivotal role in enhancing the clinic's ability to serve not only the University community but also the residents of the Asante Mampong Municipality and its surroundings more effectively.
The Acting Principal, Prof. Emmanuel Dartey, then handed the refrigerator to the Principal Nursing Officer, Mr. Matthew Feigben, who represented the Campus Medical Officer, Dr. Michael Akoto-Sasu.  Mr. Feigben on his part thanked management and promised to make good use of the refrigerator.
This heartwarming ceremony was attended by several distinguished officials, including the in-coming Principal, Prof. Dr. Isaac Abunyuwah, the Campus Auditor, Ms. Monica Boateng, the Campus Librarian, Mr. Amoako, and the Campus Relations Officer, Ms. Adwoa Serwaa Karikari.
The generous donation by the UEW Co-operative Credit Union Limited exemplifies a strong commitment to community well-being and demonstrates the pivotal role that corporate entities can play in enhancing healthcare infrastructure. This contribution will undoubtedly leave a lasting positive impact on the Asante Mampong Campus Clinic, benefiting both the academic community and the broader society.